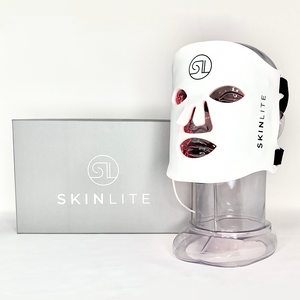 Dp Derm
SkinLite LED Face Mask
Regular price
$449.00
$0.00
Unit price
per
SkinLite features soft, flexible silicon construction, is lightweight, easy to use, and runs off a battery, which means you can go about your daily business uninterrupted while rejuvenating your skin.
Due to its innovative design, SkinLite allows for direct LED to skin contact, reducing the amount of energy needed to achieve results, and making in-home SkinLite treatments as effective as those delivered by much bulkier and more expensive in-clinic LED units.
In these distressing times, it is worth noting that light therapy has also been proven to increase serotonin levels to help battle Seasonal Affective Disorder (SAD) – a welcome quality in today's environment, where we are being asked to self-isolate and stay indoors as much as possible.
Features:
• 66 high-intensity LED nodes (633nm and 830nm wavelengths)
• Direct LED-to-skin contact for increased efficacy
• Soft, flexible, non-constricting silicon construction
• Powered by a rechargeable battery for ease of use and portability
• Integrated 10-minute treatment timer
Benefits:
• Increases production of collagen and elastin
• Improves circulation and nutrient exchange within the skin
• Improves appearance of wrinkles and fine lines
• Reduces appearance of redness and inflammation
• Improves overall tone and texture of the skin
• Gives the skin a smoother, brighter, more radiant appearance
---
Share this Product
---